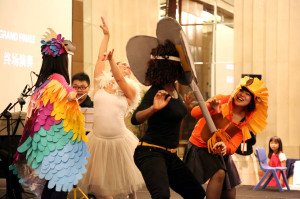 Babies and kids clapped and twirled to a live interactive musical performance by professional classical musicians at the Grand Hyatt Beijing Hotel on the 5th of May. The Carnival of Animals concert delighted both adults and children with bubbles, balloons, and dance performances. Children followed the dances of their favorite animals, assembled animal figures, and reached for "underwater bubbles," all to the tunes of classical musical pieces. The musicians and performers inspired and ignited the children's interest in classical music in a fun-filled family event. Follow this link to see great photos of this event.
Nearly 300 guests raised more than 17,400 RMB for Olivia's Foundation, the sole beneficiary of the event.  Olivia's Foundation sincerely thanks Baby in Harmony Productions for putting together such a wonderful concert and helping to raise funds for Olivia's Foundation. The money raised will be used to offset the cost of therapy for children in need and promote the quality and accessibility of pediatric therapy and inclusive education in China.
Learn more about Olivia's Foundation here.  If you are interested in making a donation to Olivia's Foundation or would like to discuss an event partnership, please contact our Foundation Director.