October 21, 2017
Olivia's Place
Comments Off
Beanstalk International Bilingual School
,
Beijing Children's Hospital
,
Beijing Hongkong Clinic
,
Beijing Ruizhi Inclusive Education and Rehabilitation Center
,
Beijing Xicheng District Disabled Person Rehabilitation and Employment Guidance Center
,
Capital Institute of Pediatrics
,
Capital Normal University
,
Center of Maternal and Child Healthcare Chaoyang District
,
Director Chunhua Jin
,
Director Jishui Zhang
,
Director Junyi Wang
,
Director Yu Shang
,
Eva Ma
,
feeding
,
First Hospital of Tsinghua University
,
Milind Sonawane
,
occupational therapy
,
Professor Zhengyan Wang
Between July and September, LIH Olivia's Place Beijing was invited to attend numerous events in the community to provide training and information for parents, teachers, and healthcare professionals.
Lectures on Child Development at Hongkong Clinic & BIBS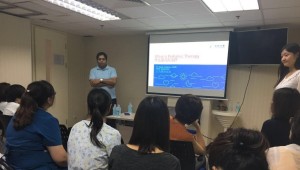 On July 27, Milind Sonawane,  Speech-Language Therapy Lead at LIH Olivia's Place Beijing, offered a lecture to clinicians at Beijing's Hongkong Clinic on the topic of Child Development and Pediatric Therapy. The event served as the foundation for further cooperation between LIH Healthcare and Hongkong Clinic in Beijing to continue the establishment of early screening and intervention treatment of child developmental disorders.
Milind shared his professional knowledge and experience, and discussed the future direction of pediatric therapy with clinicians in attendance. First, he introduced the general pattern of child motor development. He also talked about early "red flags" that signal concern in a child's motor development. Through case review, Milind explained how an interdisciplinary team ( for example, including physical therapy, occupational therapy, speech therapy, and psychology) consultation) conducts a comprehensive and subsequently provides therapy services through a treatment plan. Attendees asked a lot of questions and participated in active discussion, especially on topics like interdisciplinary evaluation, diagnosis, and treatment, as well as the various therapeutic models used across countries.
This event was a tremendous success. Through exchange of experience and knowledge, LIH Olivia's Place supports clinicians to evaluation and treat child behavior and developmental concerns.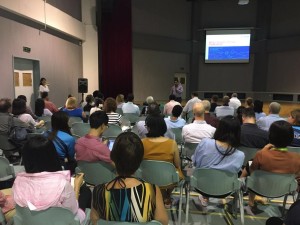 On August 15, Mr. Sonawane lectured on child development for more than 70 teachers at Beanstalk International Bilingual School. He talked about children's development at different stages, including the areas of gross motor, fine motor, social, cognition, and speech and language. He emphasized the significance of focusing on child development, as well as measures to take when there are "red flags" signaling concern. Teachers gained approaches to use as they identify potential problems with a student's development.
Although each child develops at their own pace, it is possible to see what is within the range of "typical" and we look to "developmental milestones," such as saying first words, crawling, walking, or even the age a child rides a bike the first time. When a one-year-old is not able to cruise by holding onto furniture or use a pincer grasp to pick up objects, or a three year old is lacks the basic skills to help put on clothes or climb stairs independently, these are examples of situations when early intervention may be greatly beneficial.
As an expert in speech and language, Milind also gave teachers advice on how to help children who have language delays. He explained that, when a child cannot understand your instructions or is having difficulty producing language, or cannot produce sound, it is necessary to consider the child's ability to think, whether they have a solid language foundation in a specific language, their oral motor skills, their ability to hear and understand, and whether they need more time to answer questions. These observations will help a teacher to understand the child's level of ability and whether to seek further assistance.
Techniques of Child Neuropsychological Development Seminar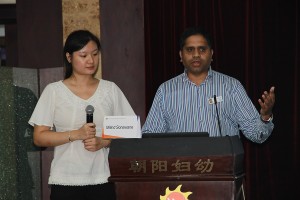 On the afternoon of August 26, Milind Sonawane, LIH Olivia's Place, was invited to lecture on the topic of "Early Identification and Intervention on Developmental Disorders" at the 2017 Advanced Seminar on Applicable Techniques of Children Neuropsychological Development hosted by the Center of Maternal and Child Health Care and Family Planning of Beijing Chaoyang District. In this lecture, Milind introduced developmental milestones of different functional regions along children's growth and comparing the early behaviors and red flags for typical children and those with special needs at different age stages and functions (cognitive, social emotional, gross and fine motor, speech and communication development). He utilized many cases to present the advantages of multiple screening/evaluation tools and interdisciplinary assessment, as well as the specific intervention methods to help children with developmental delays and improve their progress in independent skills. This lecture offered the audience a more profound view of the therapists' responsibilities within different discipline and the cooperative model of an interdisciplinary team.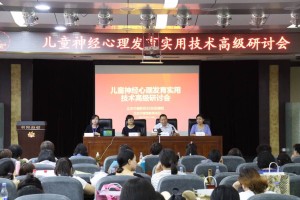 Domestic and international experts in children's neuropsychology were invited to this seminar. Professor Zhengyan Wang from the Psychology Department of Capital Normal University, Director Chunhua Jin from Capital Institute of Pediatrics, Director Junyi Wang from the First Hospital of Tsinghua University, Director Yu Shang from Maternal and Child Health Care Hospital of Chaoyang District and Director Jishui Zhang from Beijing Children's Hospital also delivered their lectures. Over 200 people attended this seminar, including staff from Beijing medical institutions and communities, as well as clinicians from the department of pediatrics and child health care of childcare facilities. Participants actively asked questions after each lecture. They all agreed that this seminar was well organized with ample and applicable information, offering people a platform for peer learning and communication.
In an advanced seminar, Prof. Zhengyan Wang talked about children's social emotional development in detail, such as the relationship among maternal characteristics, quality of caregiving, and infant/young children's temperament and attachment. She also introduced ways to improve caregiving to facilitate healthy emotional development based on a child's temperament. Prof. Chunhua Jin explained assessment and diagnosis of ADHD.
Through case review, Dir. Junyi Wang explained the identification and evaluation of neurodevelopmental disorders within high-risk infants during follow-up visits. With the development of perinatal medicine and NIC skills in China, the survival of high-risk newborn has greatly increased. Therefore, it is vital to conduct appropriate neurodevelopment assessment during follow-up.
Dir. Yu Shang talked about the significance of psychological development as a child grows and introduced ways to facilitate neuropsychological development and the essential role of family during children's early development.
Dir. Jishui Zhang explained diagnosis and early intervention for autism spectrum disorders.
LIH Olivia's Place Trains at Xicheng District Inclusive Education Parent Training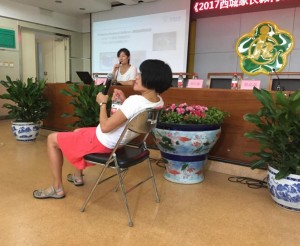 On September 3, Eva Ma, Occupational Therapist at LIH Olivia's Place Beijing, was invited by Beijing Ruizhi Inclusive Education and Rehabilitation Center to Beijing Xicheng District Disabled Person Rehabilitation and Employment Guidance Center, to offer parents and special education teachers a training on "Feeding and Nursing Methods for Families of Children with Special Needs."
In this lecture, Ms. Ma introduced factors that affect swallowing, including posture, eating environment, food material and texture, etc. With various interactive activities, parents were introduced to methods and tools for feeding, helping children to improve their swallowing capability to maintain sufficient intake of food. During a period of question and answer, Ms. Ma answered parents' questions including: How to manage drooling in children? What should be done if my child doesn't know how to remove bones from fish fillets? How to teach children to put on/off clothes? How to toilet train?