Early spring is a good season for sowing hope and spreading thoughts! On this occasion, LIH Olivia's Place Beijing also launched a series of training and activities on pediatric development rehabilitation. We hope that by providing training to parents, teachers, and clinicians, each child has opportunity to get comprehensive and professional care and attention, to grow healthily and happily.
Parent Training at Huijia Kids: A Series Lecture on Child Development
On March 4, an interdisciplinary team from LIH Olivia's Place Beijing provided a lecture on Children's Challenges to teachers and parents at Huijia Kids. In the lecture, our clinicians analyzed the root causes for problems and challenges children encounter in learning and in life, shared coping strategies and suggestions, introduced a case study about an inattentive child, and explained misunderstandings about sensory integration. At the end of the lecture, clinicians showed the importance of developing and training good postures and answered all kinds of questions raised by parents. The atmosphere was very lively!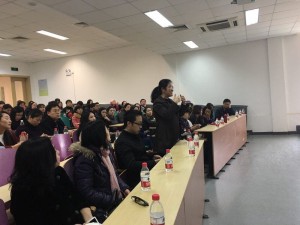 Rare Disease Day – Never Rare, Parent Training on SMA Basic Care and Rehabilitation
For many families with children with a rare disease, parents take good care of their child and frequently seek training and therapeutic interventions. However, during daily activities with their children, parents may not know how to use their strength appropriately. They may get hurt or even have functional problems due to the long-term care they provide. In this context, Eva K. Ma, Senior Occupational Therapist at LIH Olivia's Place, was invited to introduce basic care and therapy knowledge, including guidance on handling and transfers. Nikola Milosevic and Liu Ping, physical therapists, also provided support and suggestions from the point of view of physical therapy.